Nutrition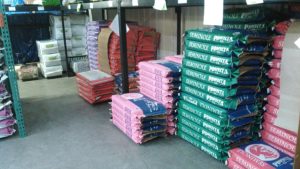 Barnyard Feed & Supply specializes in Equine health. We stock a large variety of feeds in a climate controlled environment from Seminole, Tribute, Carolina Choice and Bartlett. Our dedicated employees are trained by our Dealer representatives on each formula of feed. With a wide variety of formulas to choose from we can precisely determine which horse feed would develop the best result for your horse. Horses that have special nutrition needs for activity, age or health could be placed on a specific formula dedicated to a certain area of concern. Improvements to a horses diet can go a long way in improving there over all health and possibly lengthen there lifespan. Barnyard also houses Alfalfa, Timothy/Orchard and Coastal Hay. We can special order straight Timothy upon request. All of our Coastal bales are inspected upon arrival to ensure they meet the high quality standards that we demand.
---
Supplements & Medication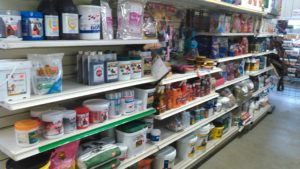 The store has a variety of Supplements in stock to help with Hydration, Joint health, Muscle fatigue, Huff health, Weight and much more. Supplements can aid in a horses health by adding in the necessary vitamins or nutrition that it may be lacking. Supplements can also be used to help a horse cope with certain allergies. Worming your horse is always a good way to ensure your horse is healthy. The store has a variety of worming products to choose from and if your unsure of what your horse may need we have a knowledgeable staff that can help point you in the right direction. Infections from an open wound can be very harmful or deadly in some situations to a horse. With a variety of antibacterial sprays we can help prevent or possibly stop an infection from spreading. Our staff is full of information on the products that we carry and most of us are horse owners ourselves. We have used most of the products in the store on our own animals and ensure our customers that any product we offer will deliver.
---
Western Apparel & Tackle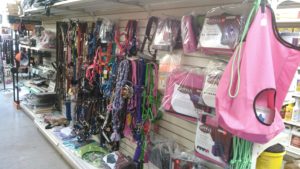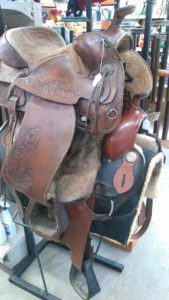 We carry a large variety of Tackle and Western Apparel products. Saddles, Bridals and lead lines are just a few of the items we carry. Saddles can be special ordered if we do not have what you want in stock. Barnyard also has leather treatment products to keep your saddle or current tackle in the best shape. Keeping your tackle treated will help preserve it for future generations and also improve the look. Our tackle department is loaded with items to meet any of your needs. We also have all the equipment you will need to install an Electric fence around your fields. If you need feeders or water buckets for your barn we have you covered as well. We offer a variety of different feeding buckets and water trays to meet your specific needs. We also have automatic waters to ensure that your horse always has fresh water at there disposal. Come take a look at the wide range of products that we carry and if we do not have it in stock our staff will work with our distributors to get what you need.