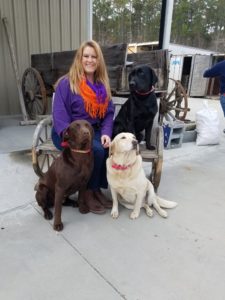 Barnyard Feed & Supply is located in the Lowcountry of South Carolina. We are a full-service feed and supply store offering competitive prices, superior customer service and more. We offer a complete line of state of the art feed, supplies and tack.
We are not just suppliers. We also own animals and realize the need for a dedicated and full service feed and supply store to serve our customers. Our passion and experience with farm animals, pets, feed, supplies, tack, and apparel help us to bring you a facility that can accommodate all your needs in one location.
Our family generations have over 100 years of combined experience in farm animals such as horses, llamas, ostrich, cows, pigs, miniature ponies, birds, chickens and more.
We all were raised on a farm and realize the tasks involved in properly caring for your animals as pets and for show.
Our store is set up to offer easy access & efficient loading services. Barnyard Feed & Supply is a facility where you can come visit, shop, and spend time with the animals in a friendly laid back atmosphere. We look forward to serving you at Barnyard Feed and Supply.
We are located just off of I-26 Exit 187 on Hwy. 78 approximately ten miles outside of Summerville, South Carolina.
Due to the virus our hours have changed. They are now the following: Mon-Fri (9:00-6:00) Saturday (9:00-3:00) And our phone number is 843-821-1802